Jacobeanish for June
So I have been telling ya'll I've been knitting, but finally proof! I give you my June socks for SAM3 knit with Lorna's Laces Shep. Sock in mountain creek (a birthday gift from a friend). I did my usual toe up with magic cast on, magic loop, two socks at a time.
I sorta used
this
pattern, but I didn't like the diamonds after the first one I knit. And I was all nutty about the ktbl marching up the front and I think it kinda looks like a skinny snake now, starting with the diamond head at the toe and going up to the cuff.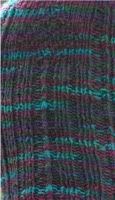 Lacey of Random Stitches
Labels: june socks