Purple cabled socks!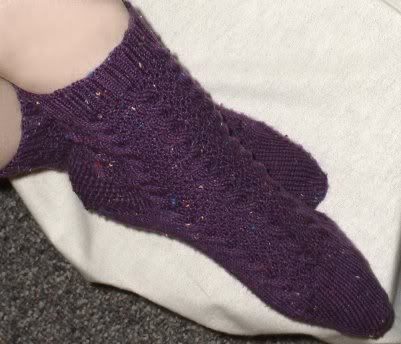 I JUST finished these, Just in time to wear them to knit night tomorrow, I'm so excited!
These are my second pair of socks (I've knit other sock like items with worsted yarn, but these are my second sock yarn socks) and I'm getting much better at perfecting the fit and design that I like!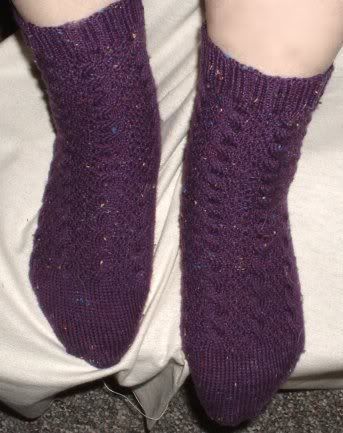 The stats
:
Yarn
: Knit Picks Essential Tweed in Plum
Needles
: HiyaHiya US size 2 (2.75mm) 40" circulars.
Gauge
: 9 stitches and 11.5 rows per inch
Method
: Toe up, Turkish cast on 30 sts, increased to 77, short row heel over 38 stitches, (11, 16, 11)
Pattern
: 3x3 cable with moss stitch from page 68, "Sensational Knitted Socks" by Charlene Schurch, and eye of the partridge pattern over heel stitches.
More info can be found at my blog.
---
Abigail
http://akittenknits.blogspot.com/
Labels: February socks