July Socks Slip Sliding In
Finished my July pair, nothing special, just k3p1 rib on the leg. My brain needed a rest and an easy project while we worked on getting real jobs and moving. :D Here they are, a prayer knit into every stitch.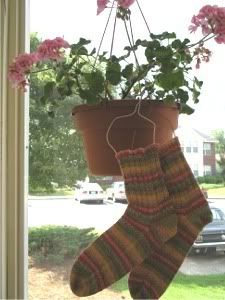 Specs: 2 socks magic loop, US 1s Knitpicks classic needles
Online Supersocke in ??? can't find the ballband since the move, got the yarn from a SP on LiveJournal, thanks Amanda!
Started in June and finished on July 12
Forgive the bad pic, had to tweak the colors to let you see the socks at all. It rains all the time here, or so it would seem.
Lacey of Random Stitches
Labels: July Socks